REEVA SEPTEMBER –OCTOBER 2015
Special offer!
Purchase R750 + REEVA products
Fresh Herb / Cell Revival skin treatments / Fresh Look Make up

Your gift - a floaty neck scarf to add that touch of "wow" to your summer wardrobe!

Please note choice of colour with your order!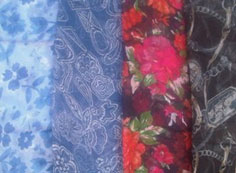 A sky B royal C floral D black.

Contact Reeva Beauty & Health:

Address: 2 Sherborne Rd, Parktown, Johannesburg
Call 011 482 1570 / 083 228 7777 / Fax: 011 726 3507 / Email: reeva@intekom.co.za

Order online: www.reeva.com


Payment: REEVA Absa a/c no 1017041424; Branch 632005 / Credit cards accepted