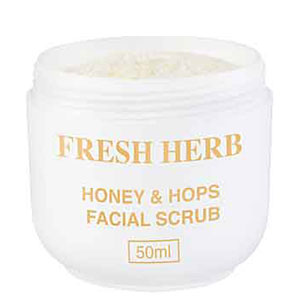 Condition:
Honey & Hops Scrub (50ml)

This special cream has a natural gentle abrasive which removes the layer of dead skin cells which dull any complexion, while soothing trouble skin and removing impurities.

Contains honey – a natural moisturiser with essential vitamins and hops herbal extract – which has an anti-bacterial and calming effect on the skin. These combined with a natural clay give you a beauty mask that deep cleanses, softens and conditions the skin.

Take a small amount and with a few drops of water, mix to a smooth liquid paste. Using the Reeva facial beauty brush or your fingertips apply with circular movements massage gently into the face, avoiding eye area. Leave for several minutes until dry. Rinse off well, pat dry. Leaves skin glowing, fresh, alive. Use after cleansing. It is essential to follow with toning and moisturising.

Suitable for all skin types. Normal and sensitive – weekly. Oily – twice weekly. Severe problem skin – daily until corrected. 50ml

* This mask may tend to draw out impurities. Use until blemishes disappear entirely.