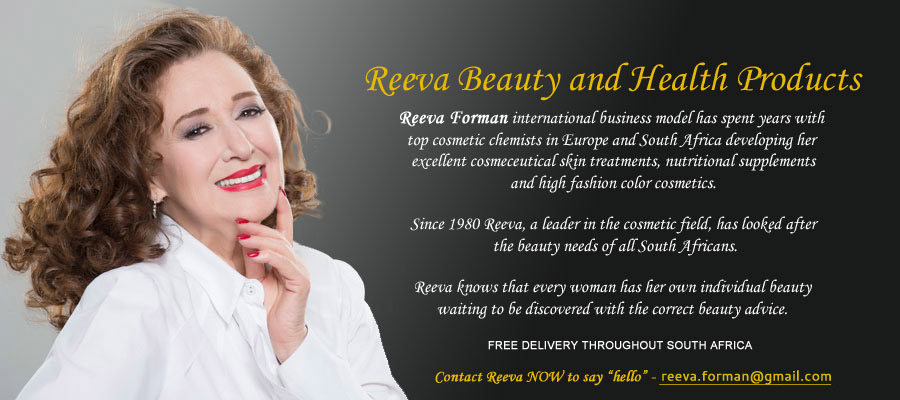 REEVA Beauty & Health
REEVA Beauty & Health has the essentials you need during this COVID 19 ERA
It is vital you stay healthy as one way to fight this dreadful virus!
But what if you want to stay slim, and not put on weight (especially with the anxiety induced desire to eat?)
| | |
| --- | --- |
| REEVA Diet Supplement is the answer! Formulated by the renowned Dr Cohen (USA) | |
A nutritional supplement to keep you energetic, while decreasing the desire for sweet foods, by the inclusion of natural trace element Chromium Polynicotinate.
FREE DELIVERY IN SA
REEVA

MOTHER'S DAY SPECIAL WITH A LOVE NOTE!
Purchase a REEVA Fragrance for the one you love ….

Ladies Tequila (85ml) R660 (50ml) R380 Le Reve (100ml) R625 (50ml) R360
Aura (100ml) R620 (50ml) R340 Fleur de Vie (175ml) R630 (50ml) R340
Men Patrick Cologne R380 After shave R370 Casa Montana (100ml) R410 After shave R400
Purchase the Miniature French Perfume Set R330

Includes 4 delightful fragrances: Floral, Sophisticated, White Flower, Spice!

FREE DELIVERY IN SA

REEVA Beauty & Health

2 SHERBORNE RD, PARKTOWN, JOHANNESBURG
ENQUIRIES / ORDER Tel 011 7262025 Cell 0832287777 Website: www.reeva.com

Bank deposit: REEVA Absa Bank a/c no: 1017041424 Branch 632005
Credit card: please supply full details.

Order REEVA products R600+ your gift an Xlarge washable shopper


Order REEVA products R330+

Your gift a small change purse at your fingertips!