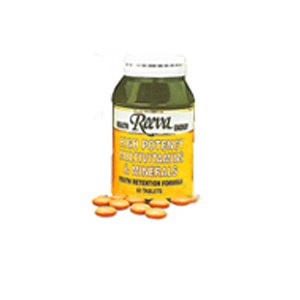 HIGH POTENCY MULTIVITAMINS & MINERALS Youth retention formula.
This formula contains 24 vitamins and minerals that form the basis of sound nutritional therapy. No single nutrient is effective without the interaction of its co-factors and other supporting elements. This High Potency Formula contains youth supportive anti-oxidants namely Vit. A, Beta Carotene, Vit. C, Vit. E, L-Methionine, zinc and copper so essential to protect us from the harmful and degenerative effects of chemical and lifestyle pollutants, which are today entrenched in everyday life. Special ingredients Beta-carotene and Vit. E. Two of the more important anti-oxidants in the prevention of biological ageing. Protects against carcinogens and toxins including mercury, lead, benzene, ozone and nitrous oxide.

Each tablet contains: Vitamin A 500 I.U.: Beta Crotene 1mg: Vitamin E 15 I.U.: Thiamine HCL 10mg: Riboflavine 10mg: Pyrioxine 10mg: Vitamin B12 0,01mg: Vitamin C (Ascorbic acid) 75mg: Vitamin D 200 I.U.: Sodium Selenite (Selenium) 0,02mg: Magnesium Oxide 30mg: Calcium Panthothenate 10mg: Nicotinamide 10mg: Folic acid 0.2mg: Di-Calcium Phosphate 50mg: Manganese Glycerosphate 10mg: Inositol 20mg: Choline Bitartrate 20mg: D-L Methionine 20mg: Glycine 20mg: Ferrous Fumarate Iron 10mg: Copper Sulphate 0,02mg: Chromium Chloride 0,02mg: Zinc Gluconate 15mg

Contains NO Gluten, Preservatives, Milk derivatives and yeast. Exipient is Corn Starch.