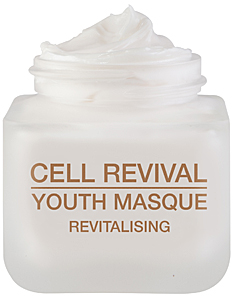 Cell Revival -
Youth Masque (50ml)

A revitalising skin preparation that restores your skin to a youthful vitality in minutes. Used regularly, this creamy emulsion mask helps to prevent wrinkles, fights against the ageing of skin by nourishing, regenerating and helping the skin to restore its ideal surface hydration. A miraculous "instant" treatment that leaves the skin with a soft youthful appearance.

Contains vital oils, Rosa Mosquita and Borage Oil, essential fatty acids indispensable to the biochemical process in the regeneration of new skin cells.
Vitamin E, Wheatgerm Oil, natures' own antioxidant helps prevent free radicals and pollutants from damaging the skin cells.
Palmitate Vitamin A helps in the regeneration of epithelial tissue.
Hyaluric Acid acts as a molecular sponge trapping and holding water giving the skin essential moisture.

Apply two to three times a week depending on condition of the skin. Excellent as an instant youth mask before applying make-up for that special occasion. Spread over cleansed face, throat, and eye area. After 15-20 minutes, remove with cotton wool dampened with facial toner. 50ml.